Principals Page
Mr. Evan Elliott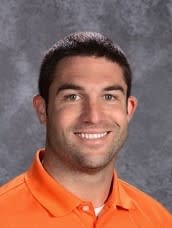 GMS Principal
330.896.7715
elliottevan@greenlocalschools.org
Mr. Elliott returned to Green Local Schools in 2018 as an assistant principal at the high school and became the head principal at the Green Middle school in 2023. He is a 2007 graduate of Green High School. He earned a Bachelor's degree in education from Ohio Northern University in 2011. Upon completion of his degree, he began his teaching career at Jackson Memorial Middle School, and remained there for seven years. Mr. Elliott continued his educational journey by attending Ashland University and earning a Master's degree in administration in 2016. Mr. Elliott coached varsity and middle school football, middle school basketball, and middle school track throughout his seven years at Jackson.

Mr. Elliott and his wife Katie have two sons, Ellis and Baylor.
Dawn Stitt

Assistant Principal, GMS

330.896.7716
Mrs. Stitt is a graduate of Jackson High School. She earned her Bachelor's degree in education from Bowling Green State University. Mrs. Stitt went on to earn her Master's degree in Curriculum and Instruction from Ashland University and her Master's Degree in Administration with her Principal's license from Malone University. Before joining the Bulldog family, Mrs. Stitt taught science at Jackson Memorial Middle school for 18 years. Mrs. Stitt was the assistant principal at Green Intermediate school for three years before joining the GMS team.
Mrs. Stitt and her husband Bill, a retired police sergeant, have four children and live in Orrville.